Thanks to our employees, who have many years of experience in the steel structure production industry, we can work efficiently with a wide variety of steel structures. Which is carried out to the highest possible international standards.
Steel structure production is fabricated as individual elements from which the frames of buildings and structures are assembled on construction sites. Two joints are used to join the structural steel members: welded seams or bolts.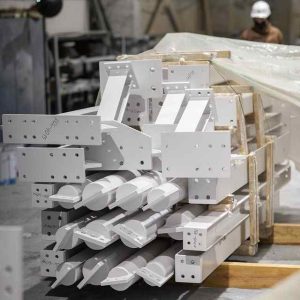 Structural steelwork is fabricated using steel alloys, welding consumables (electrodes, welding wire, fluxes, shielding gases) bolts and rivets. Steel structures are made mainly of low-carbon and low-grade steel of various profiles.
Steel structure production is made up of a number of operations for which basic fabrication plants are organised. These include a metal preparation shop with a warehouse, a parts processing shop, a semi-finished products warehouse, assembly-welding shops, a painting shop and a finished products warehouse.
The production of building structures is individual and sophisticated. The LS STEEL produces various structures for different buildings and structures from different grades of steel. The limited lead times, the need to adhere to strict sequencing and complexity deadlines for the assembly of the different types of structures require a management system that is responsive and flexible.
We produce steel structures for different types of buildings and fields: Logistics complexes, agricultural warehouses, commercial spaces, special reinforcements for buildings and much more. Please note that in addition to the steel structures themselves we can also deliver them to the place of assembly and install them. You can contact us directly via the contact page or request a rough estimate.